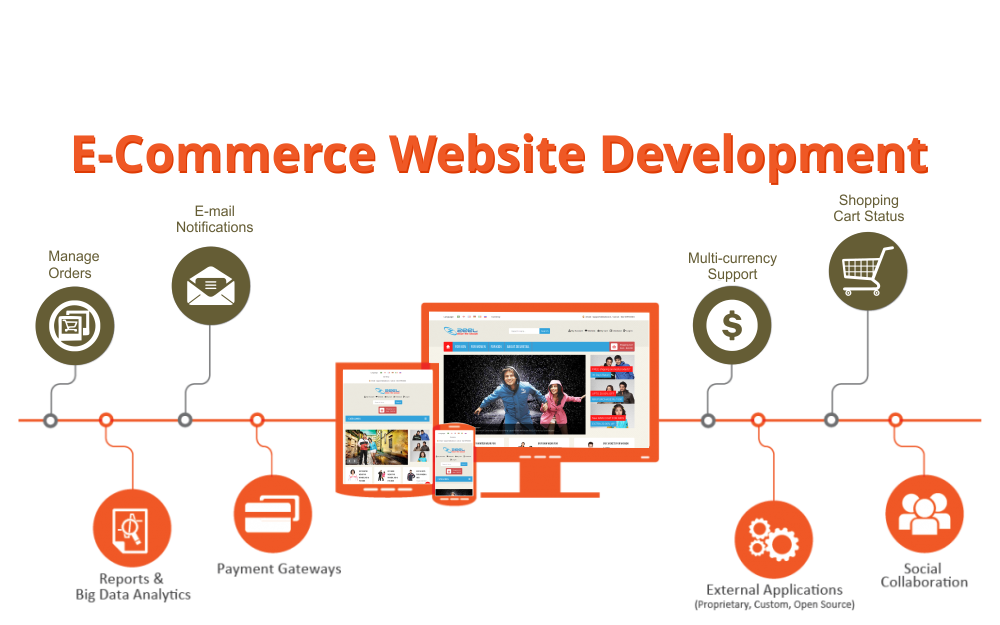 Custom eCommerce development
What matters most for your business is to offer your clients a great user experience and the services promised. We provide your clients with an unrivaled experience through excellent eCommerce website specifically designed for your business.
SOUTECH provides custom eCommerce development services to our national and international clients across the globe. Our experienced team work diligently to design a fully customized solution specific to our clients' businesses. We deploy features and module that meet the needs of their business. Our eCommerce consultant works with our clients to understand their requirements so as to design the wireframe to assist the developer team to bring forth an effective custom eCommerce solution.
Our Expertise:
We at SOUTECH make sure that we customize your web store in order to customize the buying as well as browsing processes of your clients. The customization is done keeping the buying requirements of your clients such as inventory browsing, categories etc. Our custom eCommerce solution allows you to reduce costing with our streamline back office tools.
The services we offer are:
Custom eCommerce Development
Ecommerce Shopping Cart Integration
Third Party Integration
Great User Experience
One-on-one Consultation
Affordable Services
Consistent Support
Hire Our Custom eCommerce Developers from Nigeria
SOUTECH has employed some of the best eCommerce developers from the industry. Our custom eCommerce developers are highly qualified and experienced with plenty of successful custom eCommerce projects. Our custom eCommerce developers have worked for various international clients from small and medium enterprises to large organizations.
eCommerce Development in NIGERIA
With the advent of Internet, things changed over the course of time so did shopping and marketing. Today, the changed behavior of buyers has brought eCommerce into limelight making it indispensable for any business.eCommerce allows retail or any online business from books to accessories, booking to travelling and education leverage internet technology to the fullest to maximize their profits. Every consumer realizes the importance of saving time and money, but wants convenience; eCommerce has made it possible for them.
Go Online eCommerce is the Solution.
Is your online store able to engage clients?
Are clients satisfied with user experience?
Is your site trendy yet user-friendly?
Is your storefront of international standards?
There are ample of such questions that need answers to make your online store a HIT among target audiences. SOUTECH, over the years, has built number of eCommerce solutions for our clients of diverse business spanning B2B, fashion, hospitality, retails and travel. Our eCommerce solution is designed to the meet the exact needs of our client's business. Our custom made solution has helped them achieve their business objectives and sales target.
SOUTECH is your true partner. We help you achieve your goal through our solutions
Safe Transaction. Guaranteed
Failing to make a presence online, is like to fail in capitalizing valuable opportunities!
SOUTECH understands the needs of our client's business and the requirements of clients. Our team of eCommerce developers and professionals offer solutions that enable businesses to heighten client experience, increase retention and client loyalty. We design our eCommerce solution to the requirements as well as unique features that offer performance efficiency and bring traffic.
SOUTECH embeds features like:
Shopping Cart Functionality
Account Management
Order Tracking
client Relationship Management
Content Management
Inventory and Catalog Management
Launch your virtual store that your clients are waiting for!
Our various ecommerce shopping cart solutions include the open source solution, Magento, which combines power with economy and ease of customisation, whilst we also offer osCommerce, and PrestaShop, which are PHP and PHP/MySQL solutions respectively
If you have implemented an ecommerce solution or are looking for partners to develop the same and are now looking to take it to the next level contact below
You can also hire our talented ecommerce developers to work as your dedicated resources/offshore team reporting directly to you.
Magento eCommerce Development
Magento is the most powerful eCommerce platform that has helped 140 thousand clients or store-owners across the globe to maximize their profits using its trendy eCommerce themes and features. Magento's design and features allow eCommerce owners to, perfectly, reflect the brand, products and services catering to the needs and demands of the consumers.
Magento allows businesses to customize the available features exactly to the client needs and design the way the business wants it to be. It comes with abundant features and out of the box templates and themes. This saves time as well as assists in making the project go live in the shortest span of time. An efficient, navigation-hassle-free website with innovative features helps retain customers, so to offer a solution of international standards. Magento helps bring these ideas into action.
Magento eCommerce Development Services – Benefits Galore
Mobile Friendly
SEO Supportive
Unmatched Features
Scalable Architecture
Simple Integration Process
Experience the Best: Magento eCommerce Services
SOUTECH has the required capabilities and extensive experience in providing Magento based eCommerce services to diverse businesses across the Globe. Based in NIGERIA, our expert eCommerce developers come with international perspectives on deploying Magento within different countries and across the globe. Be it implementation or creation of an ecommerce solution from scratch, SOUTECH has proved its capability time and again. We create a solution that lasts for decades – a complete futuristic solution.
Our team of eCommerce developers is fully aware of the requisites of modern business and they comply with internet standards, as to make your online presence stronger and visible. From implementing end-to-end fully loaded eCommerce to designing and developing themes and extensions, SOUTECH is fully equipped with all the required expertise and infrastructure.
Our Magento Expertise
Extensions and Themes Development
Third-party Integration
CRM and ERP Integration
Secure Payment Gateways
Tax Systems
Shipping Methods
PrestaShop eCommerce Development
'The lightest, yet feature rich eCommerce platform' is the definition of PrestaShop. With over 245,000 user community and 90,000 active stores world over, PrestaShop is the most cost-effective and performance oriented eCommerce platform supporting multiple languages with responsive designs. The second most used eCommerce platform's benefits are many fold. From simple installation to third party integration and migration, all these activities are performed in a simple manner within a limited budget.
It has been supporting store owners with thousands of features and pre-built templates as well as numerous plug-ins to give shape to any business idea. PrestaShop is one stop solution for eCommerce development and online business growth.
The PrestaShop Advantages
Perceptive and Pleasant interface
Sophisticated Navigation
Highly Scalable Solutions
SEO-friendly
Lightweight and Faster Processing
Consistent Support
SOUTECH –A PrestaShop Expert
We, at SOUTECH, have proved our capabilities time and again when it comes to PrestaShop eCommerce development for our domestic and global clients. SOUTECH has employed some of the best PrestaShop developers from industry who carry years of experience as well as handsome track record of successful projects. Experience comes with time and successful projects as well as exposure to various industries; our teams of eCommerce professionals are capable of converting your online store into a rendezvous for online shoppers.
Out team of eCommerce developers have the required business acumen to understand client's business in order to bestow them with a solution that helps their business grow.
Our Nigeria dev centre PrestaShop Expertise:
Module Integration
Custom Theme Development
Support and maintenance
PrestaShop website development
PrestaShop Customization
SOUTECH' team of eCommerce developers makes sure that you make the most of our association. We offer highly customized PrestaShop solutions to clients catering to their business specific needs in most cost-effective manner. Explore our expertise to know how we can help you boost your online business.
You can also hire our talented Prestashop developers to work as your dedicated resources/offshore team reporting directly to you.