August 25, 2020
Posted by:

teamDigital Marketing

Category:

Blog, Blogging, CEH, Cyber-security and Ethical Hacking Training, Data Science Free Training, Development, Digital Marketing, Digital Marketing and SEO Free Training, eBusiness and eCommerce, Freelancing, Get In Touch, Mobile App Development Free Training, Professional Website Design Free Training, Project Management, Security, Statistical Analysis IBM SPSS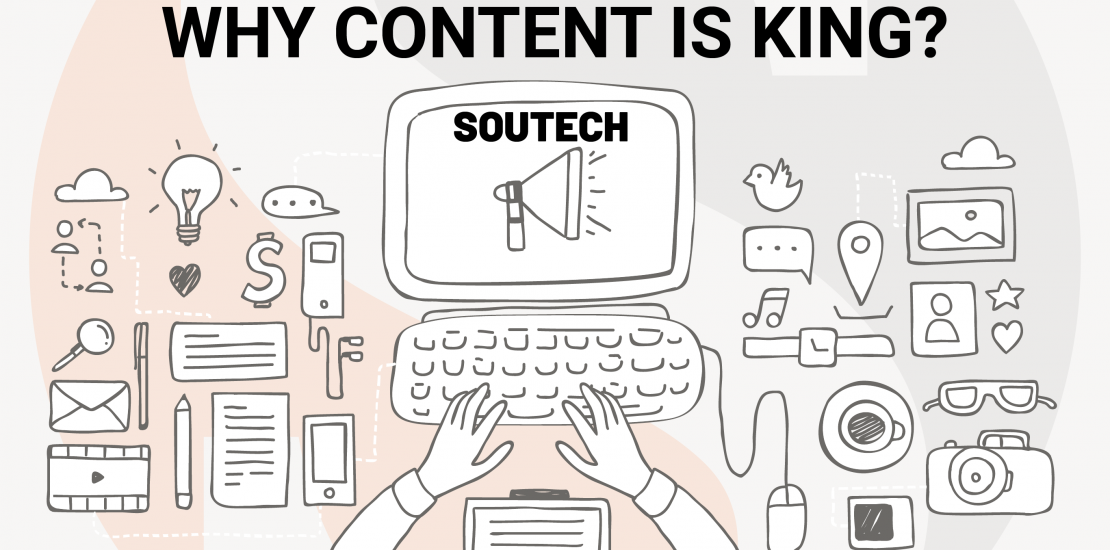 When it comes to brand, consistency matters. Your digital content is the face of your brand online. Your website may be the first or even the only, interaction your potential customers have with your organisation, so your site needs to represent your brand at its very best.
Content is the information, the idea or the experience you publish online. It is anything that you produce and publish for the purpose of offering it to your audience. The format of the content is most commonly text, but it can also be visual, audio, or video.
In this era of digital marketing, we can no longer neglect the value of Content. It has become a fundamental part of any digital marketing strategy. It's like a pillar supporting all your marketing components. No business can be successful and establish a relationship with the target group without some type of content involved.
The quote "content is king" is originally from an essay Microsoft founder Bill Gates wrote in 1996. In it, he describes the future of the Internet as a marketplace for content. The phrase "content is king" is not new, but because of the increased focus on content marketing strategies, the quote is used very often.
The role of content in the modern world, and how the internet is changing the way we create, publish, distribute, and consume content. He predicts that the internet as a medium, which was then something new and different, will revolutionize the way people get information and the way they communicate.
There is no doubt that the role of content has evolved over the years. Content writing has evolved, but the usage of visual contents such as pictures, diagrams, charts, infographics, online videos, screenshots, memes and slides are also gaining importance, especially in the last few years. The concept of storytelling was also introduced as a more elaborate content strategy.
Writing content for marketing is the reason why content is referred to as King. Content is everything.
Why content will always be king? Companies that use content marketing have better results. Lead generation is the most important content marketing goal which every business person wishes to achieve.
Content writing tips include
Visual aspect boosts the performance of the content
Video and visual content will gain even more importance
Email and social networks are the most important channels for content distribution
Longer posts usually perform better
Producing engaging content and producing content consistently are some of the most common challenges for marketers. Yet, these are the top priorities for most marketers because this is the road that brings success with content marketing strategy.

What makes content king?
Useful
Easy to consume
Shareable
Original
Relevant
Compelling
Timely
Personalized
Authentic
Engaging
Educational
Entertaining
Insightful
Conveying a story
Contextual
In terms of marketing content, it is used as a way to directly connect with the target group. The goal is to increase the quality of the content you present to your potential customers, and the main purpose is to encourage their interest in your business through this content.
Since the content is created with a specific purpose in mind, it has to be well planned and carefully designed. As much as content creation involves creativity and skillfulness with transferring your thoughts and opinions, using content in content marketing is done with specific goals, and thus it is something you should think through.
The content creation process is not a random process. It is not about writing the content you love, you personally enjoy or about a viral video, everyone is talking about. It is not about writing anything that comes to your mind.
Content marketing strategy includes so much more than having an idea about a certain topic. It is a planned strategy that is supposed to bring your business certain results, which means that you should think about all the aspects that could help you create content that brings you to that goal. Starting from the target audience, to search engine optimization, here are the things you need to consider.
How do I start content writing?
To start with content marketing, you will need a plan. Simply starting a blog and publishing content is not enough. Instead, think of content marketing as a tool to help you achieve your goals, regardless if that is increasing sales, generating new leads, etc. These goals are important because they affect the type of content you are going to create, as well as the ways you will distribute content.
Determine your target group
Think about their possible questions, problems, dilemmas, etc.
Be able to predict what kind of information can help in these situations
Publish content that is relevant to your target group
Use the language your target group can identify with
The subject/topic you want to focus on
The resources you have available. i.e. the cost of running the content writing and distributing it as well.
Research your industry, competitors to be up-to-date
Keyword research
Blog writing
Podcast
Audio and video content
Infographics
Images
Ebook
Scriptwriter
Email writer
Social media writer
You can read in details about types of content writing
https://www.clearvoice.com/blog/10-types-content-writers-use/
Content writing is a process that starts with an idea and ends with a published piece of content, regardless if that is written, visual, audio or video content. When you create content, you have several options. The goals of every content writer are to:
Increase sales
Generate more leads
Get more social media followers
Improve the reputation
Work on branding
Get more visits

Therefore, your content has to be relevant, unique, and of top value to the intended reader. Note that when it comes to publishing, the platform you are going to use depends on the type of content. If it is a blog article, you will probably publish it on your own blog or perhaps on another blog where you are presented as a guest author. If the video is the content in question, you also have several options. You could host it on your server, or you could use a more popular option and publish the video on a video hosting platform such as YouTube or Instagram.
Content writing for SEO. When it comes to content optimization, you want to focus on how to improve the performance of the content by following suggested practices and guidelines. If you optimize content properly, search engine crawlers will be able to index such content and associate it with the right keywords. This way, when a relevant term is searched in a search engine, your website will be shown as one of the results. This can be achieved through Keywords.
Like any good relationship, being consistent is the key to success in the marketing world. Whether you are creating content, consistency can be the deciding factor in whether your efforts are a success or a flop.
Here are three specific reasons consistency should be a top priority for your organization:
Strengthen your brand awareness
Build trust with your audience
Increase conversion
In conclusion, Just as content is king, consistency is queen. Always try to be consistence with your content creation in order to gain the online presence your business need. You can learn more about content writing and other ways to gain online presence by registering on SOUTECH iLearn platform for free to enrol for our digital marketing training.