February 8, 2019
Posted by:

SouTech Team

Category:

Blog, Development, Digital Marketing, Graphics and Branding, Project Management, Web Development Training, Website Design Service Abuja, Website Design Training, Website Hosting, Wordpress Website Design Training
Need to start or manage a website, app, web development project?
A good project plan for your new website to display on web(PC), Phone,  iPhone and iPad- ( Responsive website design) is composed of a series of tasks, a budget, a timeline, and a list of needed resources and materials. It is very important for you to take some time to create a detailed project plan gives you a structure within which you can work with greater confidence and a much better chance of meeting your original goals on time and on budget.
Even if you're simply sketching your idea on the back of a napkin, arriving at a clear and agreed-on vision of your destination increases your chances of getting there on time and on budget.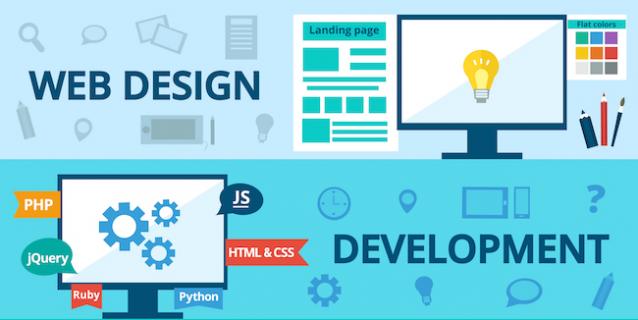 Follow these basic steps to create a site plan:
To get started on creating project plan, focus on the following components:
Identify your project: Most times when you get a brief from your client or you have a request for website development jobs  you need to get as much information as possible. Click here to get example of a form that can help you get started with a web development/design project >> Website Development Services in Nigeria Form
Define goals and objectives: Every project must have a goal, and that you must ask from your client. There are several goals and objectives for a web project. it might be simply brand awareness, digital marketing for lead generation, showcase of products and services, ecommerce for sales of products and so many  others. If you get this right from the onset that should determine how you would do you user experience and user interface(UX/UI) Design for the website/app


Need to learn professional Graphics and Branding? UI/UX Design Click Here >>>
Graphics and Branding Training in Nigeria 

3. Define tasks. Some young and even experienced developers find it difficult to pull through a project because they don't break down the project into smaller bits and have  task sheet. Also the task sheet helps you in website cost and budget planning for your client which tells what goes into each part of the project and what remains as profit. You are not making profit from your website design firm or freelance agency because you are not doing a good task breakdown and subsequently a website cost breakdown. Start today and maximize your work schedule.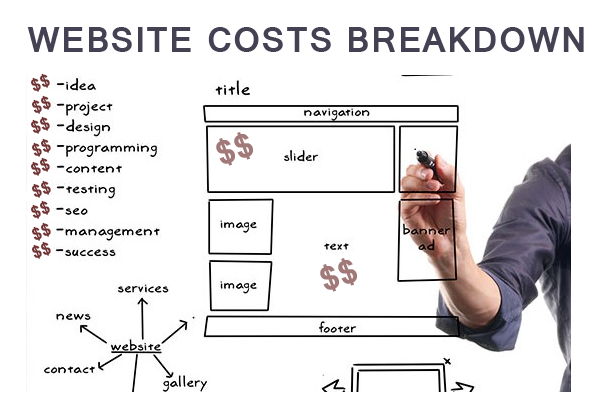 4. Build your team:  If you are freelancer then you might neet to do everything yourself but if you have a project and want to get the best from it, then its time to talk to a team. SOUTECH has smart developers in various fields that can help you plan, design and execute your project from start to finish. Here are some aspects you might need help:
Assemble a team.
You may not have all the skills or time to do everything that needs to be done. Here are some common roles:
Team Leader: Every team needs someone who is able to make the final decisions.

Designer:Depending on the scale of the project, besides the familiar graphic designer, the team may need a user experience (UX) designer, creative designer, or interaction designer.

Client-side developer: Also known as a user interface (UI) designer, this developer specializes in creating interfaces that function efficiently on the iPad/iPhone platform.

Server-side developer: If you are building a dynamic site, you will want to have a developer skilled in programming languages like PHP or JavaScript to handle the server side code.

Database administrator: Depending on the complexity of the site, you may also need a database specialist to set up and maintain a database.
5. Be aware of any project killers.
There are many possible causes of failure and any level of complexity and problems can rapidly escalate into disasters. Here are just some of the most common causes of project failure:
Poorly defined project scope: not getting exact client's website project expectation/scope.
Inadequate risk management: not mitigating risk that arise from the deployment or launch of the project.
Failure to identify key assumptions: not making a close to exact assumption/needs of client
Project managers who lack experience and training: not understanding how to deploy the project and still not wanting to outsource to credible hands.
No use of formal methods and strategies: not invoicing, project stages tracking, payment receipts, time schedule for the projects.
Lack of effective communication at all levels
Key staff leaving the project and/or company: staff leaving the company during development of deployment of a web/app project.
Poor management of expectations
Ineffective leadership
Lack of detailed documentation
Failure to track requirements
Failure to track progress
Lack of detail in the project plans
Inaccurate time and effort estimates
Cultural differences in global projects
So the causes of project failure are wide and varied
6. Create a timeline.   Having a timeline for your project is very critical. the below infographics is very self explanatory. You can always adjust as it soothes you but make sure the core components are there so you have a world class bespoke smart project.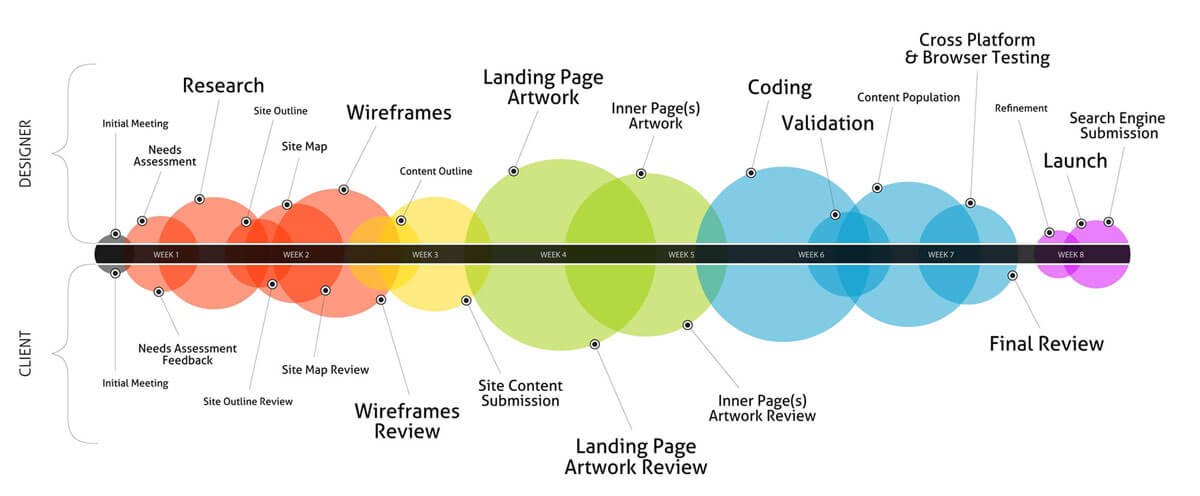 7. Get feedback and Adjust your plan accordingly:  At SOUTECHventures.com , the end of the project always comes with feedback. There are many advantages of client feedback in website design or app development project and you can not over emphasis the need for you to understand how you client see your project because that is going to form the crust of your actions leading to your improvement in subsequent projects.
There are some Best Ways to Get Feedback and Constructive Criticism on Your Design Work
Send out short surveys. …
Provide clients with feedback guidelines. …
Use collaboration platform or tools specifically designed for feedback. …
Ask for feedback at various parts of the project. …
Give people enough time to review your work.
Here are some of our recent projects! Get a smart website or web, mobile application today!
Contact an inhouse developer now: (+234) 08034121380( Calls, SMS, WhatsApp)
Click to start learning while you earn and grow…