January 26, 2022
Posted by:

SouTech Team

Category:

Blog
Welcome to SOUTECH Academy- Remote Training Sessions February 2022
11th Feb-15th March 2022
(Live WhatsApp Sessions and Recorded/Live Zoom Classes, Comprehensive Training Slides/Softwares/Docs)
SOUTECH Consults – (a smart and budding Information Technology (IT) firm with innovative, intelligent, knowledgeable and experienced consultants, trainers and developers.
SOUTECH is primarily an Information Technology Firm which has been in operation for over 10 years (2007 till date), created to be the numero uno in Digital Solutions & implementation, eBusiness & IT systems integration and consultancy industry of the Nigerian Economy and to partners worldwide.
To be efficient in IT service delivery and management you need core practical training from SOUTECH.
We bring you 5 Training Limited Time Offer
Ethical Hacking(CyberOps) and PenTest+
 Data Science ML( Python, SPSS, Google Data Studio)
Project Management and MS Project
Website Design( eCommerce, Corporate and Blog)
Digital Marketing, Sales and SEO for business growth
See the training schedule here: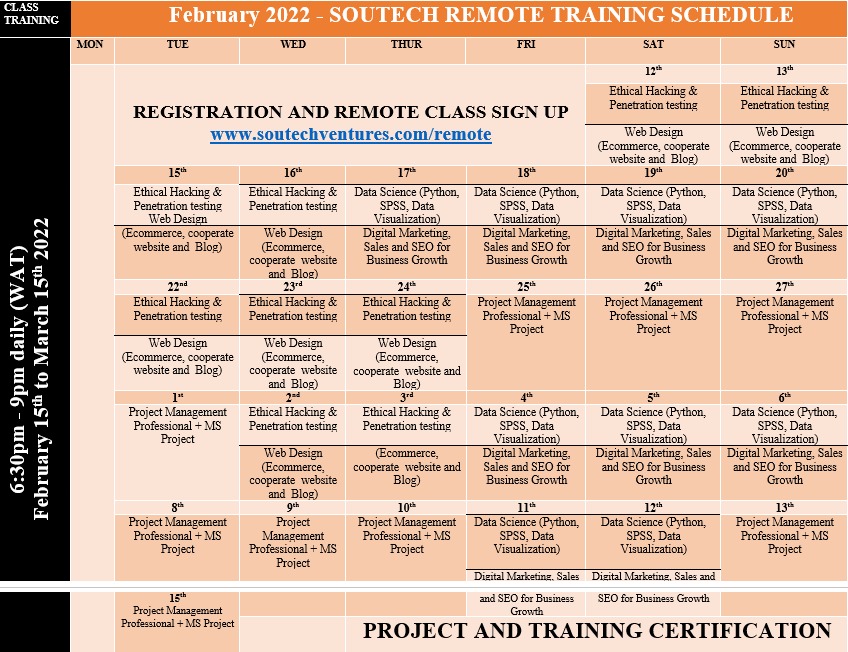 Registration on going here: ( Click below link and register in a new tab)
https://forms.gle/ZXSuPUgHxuM2VmAF6 
See the course curriculum for the 5 courses below:



Ethical Hacking(CISCO CyberOps) & Penetration Testing(CompTIA Pentest+)
 SOUTECH Academy brings to you a combo cybersecurity curriculum based training featuring learnings from CISCO CyberOps and CompTIA Pentest +.
 Module 1: CISCO CyberOps
You'll be trained by Certified Trainers who, through our unique Lecture | Lab | Review technique, will take you through key security principles and provide hands-on, practical examples. This technique will help you better retain knowledge and will ensure you are capable of applying your skills to real-life scenarios.
Upon completing this training you will have:
the skills to prepare for more job roles in cyber security operations
a basic understanding of Security Operations Centre (SOC) teams including an understanding of the type of metrics used to detect and respond to security incidents
an understanding of how to protect your organisation's information from common attack vectors and endpoint attacks
knowledge in security monitoring, including identifying sources and types of data and events.
knowledge of how organisations are detecting and responding to cyber crime, cyber espionage, insider threats, advanced persistent threats and regulatory requirements
an understanding of security challenges involved with network applications
This course, which is 40% faster than traditional training, is aimed at Security Operations Center (SOC) Analysts at an associate or beginner level. The certification does require some knowledge of basic cyber security technologies, principles and basic IT networking or web design/programming knowledge.
CyberOps Course – Curriculum
Module 1 – The Danger
Module 2 – Fighters in the War Against Cybercrime
Module 3 – The Windows Operating System
Module 4 – Linux Overview
Module 5 – Network Protocols
Module 6 – Ethernet and Internet Protocol (IP)
Module 7 – Connectivity Verification
Module 8 – Address Resolution Protocol
Module 9 – The Transport Layer
Module 10 – Network Services
Module 11 – Network Communication Devices
Module 12 – Network Security Infrastructure
Module 13 – Attackers and Their Tools
Module 14 – Common Threats and Attacks
Module 15 – Network Monitoring and Tools
Module 16 – Attacking the Foundation
Module 17 – Attacking What We Do
Module 18 – Understanding Defense
Module 19 – Access Control
Module 20 – Threat Intelligence
Module 21 – Cryptography
Module 22 – Endpoint Protection
Module 23 – Endpoint Vulnerability Assessment
Module 24 – Technologies and Protocols
Module 25 – Network Security Data
Module 26 – Evaluating Alerts
Module 27 – Working with Network Security Data
Module 28 – Digital Forensics and Incident Analysis and Response
Module 2: CompTIA PenTest+:
Penetration Testing is for cybersecurity professionals tasked with penetration testing and vulnerability management.
PenTest assesses the most up-to-date penetration testing, and vulnerability assessment and management skills necessary to determine the resiliency of the network against attacks. This training program will verify successful candidates have the knowledge and skills required to:
Plan and scope a penetration testing engagement
Understand legal and compliance requirements
Perform vulnerability scanning and penetration testing using appropriate tools and techniques, and then analyze the results
Produce a written report containing proposed remediation techniques, effectively communicate results to the management team, and provide practical recommendations
Tools: Over 20 Labs within Kali Linux and cyber security CTF Platforms
What Skills Will You Learn?
Planning and Scoping
Includes updated techniques emphasizing governance, risk, and compliance concepts, scoping and organizational/customer requirements, and demonstrating an ethical hacking mindset.
Information Gathering and Vulnerability Scanning
Includes updated skills on performing vulnerability scanning and passive/active reconnaissance, vulnerability management, as well as analyzing the results of the reconnaissance exercise.
Attacks and Exploits
Includes updated approaches to expanded attack surfaces, researching social engineering techniques, performing network attacks, wireless attacks, application-based attacks and attacks on cloud technologies, and performing post-exploitation techniques.
Reporting and Communication
Expanded to focus on the importance of reporting and communication in an increased regulatory environment during the pen testing process through analyzing findings and recommending appropriate remediation within a report.
Tools and Code Analysis
Includes updated concepts of identifying scripts in various software deployments, analyzing a script or code sample, and explaining use cases of various tools used during the phases of a penetration test. It is important to note that no scripting and coding is required.
What you can become at the end of the training:
Junior Penetration Tester
Security Consultant
Web App Penetration Tester and Network & Security Specialist



Python Programming and SPSS for Data Analytics
Data Science Training Curriculum (Python and SPSS, Google Data Studio)
Module 1: Python Programming and Libraries
-Software installation and setup
-Introduction to what Data Science process
-Python-Crash-Course and Exercise
-Introduction to Numpy and Exercise
-Python-for-Data-Analysis-Pandas and Exercise
-Case Study – Employee Data Analysis for 50,000 Staff
Module 2:  Data Visualization and Data Analytics
-Data-Visualization-with-Matplotlib and Exercise
-Data-Visualization-with-Seaborn and Exercise
-Case Study – COVID 19 Data Visualization
Module 3: Machine Learning Algorithms
-Introduction to Machine Learning and Article writing and presentation
-Linear-Regression and Exercise
-Case Study  and Visualization
Module 5: SPSS, Google, KoboToolBox for Data Analysis
-Introduction to SPSS (software setup and software interface review)
-Questionnaire Design using Kobotoolbox or google Form
-Importing Data and Defining variable into SPSS
– Case Study – Analysis based on data retrieved from Questionnaire 1
Module 6:  Analyzing Descriptive Statistics for Continuous Variables
-Chart plotting (pie, bar, histogram)
-Project and Assignment Review
-Case Study – Analysis based on data retrieved from Questionnaire 2
Module 7: Google Data Studio Foundation Course
– Exploratory Data Analysis
– Charts and Business Intelligence Insight from Data



Project Management Professional and MS Project 2016
SOUTECH PMP® training is aligned with the new syllabus and exam structure 2021. It is designed to ensure that you clear the PMP® exam in the first attempt.
Our hands-on training approach, entrusted by many learners, will help you to imbibe the workings of the 5 Process groups and 10 knowledge areas as prescribed by PMI®.
We guarantee that you'll walk away with all the preparation and confidence you need to conquer the exam and earn the PMP® certification. The training is inline with PMBOK 6/7.
The Project Management Professional Training is a very important training for everyone and all business and career professionals that want to learn how to deliver on projects within scope, quality, budget, time, resources and within the constraint of their environment
Our PMP Training is a comprehensive bundle which not only guarantees your exam success but also makes you a robust Project Manager.
It includes:
-Training on Project Management Professional (PMP)
-Free Exam Prep resources
-Use of MS Project 2016
Course Syllabus
Module 1 Business Environment (Exam Domain III)
-Project management concepts
-Project Life Cycles, Phases and Process Groups
-Project Benefits and Value
-Compliance
-Change Management
-External Business Environment Changes
Module 2 People (Exam Domain I)
-Project Manager Role
-Forming—The Project Manager
-Storming
-Norming
-Performing
-Adjourning
Module 3 Process – Design (Exam Domain II)
-Governance Structure
-Incremental Value
-Project Methodology and Knowledge Areas
-Agile and Hybrid Project Methodologies
-Project Artifacts
-Data Gathering and Analysis
-Project Integration Overview
-Project Integration Knowledge Areas
Module 4 Process – Constraints (Exam Domain II)
-Project Scope Management
-Project Schedule Management
-Project Cost Management
-Project Resources Management
-Project Quality Management
-Project Procurement Management
-Project Risk Management
Module 5 Process – Managing and Closing (Exam Domain II)
-Change Control
-Stakeholder Engagement
-Communications
-Knowledge Transfer
-Basic Use of MS Project 2016 software
Mock Exam and Certification guides, exam dumps, digital learning materials for exam prep.
We are confident that these procedures will enable you to pass the exam in one sitting or carry out projects within your organization or enterprise
Benefits of doing a PMP training and certification
Adds value to the resume
There are several professional certifications that you can pursue throughout your career. But, among all of those, PMP certification is the most valuable certificate programme.
Provides Industry recognition
PMP certification is universally recognized. Many certification programmes focus only on a specific domain or geography. PMP on the other hand, is global and works with any industry and in any location. So, regardless of the professional background and industry, you can gain by adding the certification to your resume.
Helps you learn important skills
There are many project managers out there in the job market. In such a scenario, how do you stand out from the crowd? What better way to do it than by becoming PMP certified? It makes your resume more attractive to companies.
Contributes to higher income
The biggest draw of PMP certification is the higher salary it can bring to the project managers. Across the industry, the average salary of certified project managers is considerably higher.
Provides networking opportunities
PMI currently has about 773,840 active PMP certification holders across the world. When you sign up as a PMI member, you become part of that club. PMI arranges frequent meetings for members in major cities across the world.