May 4, 2017
Posted by:

SouTech Team

Category:

Cyber-security and Ethical Hacking Training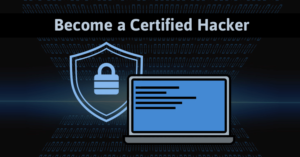 Do you know that in a long while say few years or even few decades, there's a great an increasing demand for ethical hackers (also known as white hat hackers) as they protect the computer systems from dangerous intrusions, malwares and ultimately from hackers( known as black hat hackers). Ethical hackers are technically skilled IT pros with a strong desire to solve problems and prevent malicious hackers from causing damage to network systems, stored data, databases and any IT infrastructure be it hardware or software.
This article tends to help you understand the step by step guide you need to go through in order to become an ethical hacker. Like they say a thousand miles journey starts with just one step. To be a professional ethical hacker you require motivation, dedication, initiative, self-education and formal training in ethical hacking. EC-Council (the CEH certifying body) calls it the technical and non-technical requirements for been an ethical hacker.
Understand and have a good grasp of the advantages and disadvantages of different types of hackers, such as White Hat, Grey Hat and Black Hat hackers. Newbies or script kiddies who are keen to become a Black Hat need to keep in mind that "A day of glory is not worth years in prison"- Carefulness that without permission you can be caught.
Seek out entry job opportunities for ethical hackers. There are lucrative jobs available in government organizations, banks, financial institutions, military establishments and private companies. My simple advice is also to tell starters to do stuffs for free or almost free (little fee) in order to learn and get the necessary experience.
Examine the basic requirements to become an ethical hacker. Try to find out the areas where will you need to develop yourself in with respect to theoretical and practical knowledge so you can have an edge in becoming a smart ethical hacker and also work really hard. At SOUTECH we employ to-be ethical hackers to take up simple or short courses in the core 19 modules areas they are not familiar with because the CEH- ethical hacking courses is very in-depth and like it's said a very fast paced course.
Understand that cyber security and ethical hacking covers a wide area of scope and really you can't be good in all the areas. But note that the CEH Course provides you with the foundation of all the areas as regards cyber security, so decide the area where you would prefer to work primarily with hardware or software. Do not think of specializing in both the areas. Though knowledge of both is required but the decision will help you to know where to begin. You must be aware of every function, every component of computer on which you will have to work on.
Evaluate your strengths and interests and gain some programming knowledge such as C, Python or Java. Also understand and learn about technologies in cloud computing, networking etc. These programming languages can be learned by taking formal programming courses and reading books. It will help you to read and write code. If ultimately you will become a software testing expert needed by most software company (to check for security flaws in software's and the development process) you need to understand the language, platform, technology before you can start testing. My advice, start your journey today.
Install and start learning the UNIX operating system as it is regarded as the original operating system built by hackers. Also learn about Windows and Mac OS. Your familiarity with the different operating system will make you a better hacker!
Take a professional course. There are a wide variety of courses available for IT security professionals in "Ethical Hacking" or "Internet Security" which would help you to expand your knowledge in ethical hacking.
Do the experiments on your own to know the actual happening of a situation.
Start testing with hardware and software to learn how to take control of the circumstances, incidences and how to prevent a computer from getting hacked or if it's hacked how to remedy the situation as is shown in the ethical hacking training program organized by SOUTECH.
Read and learn on your own to know what are the areas where you need to improve and what need to be learned to refine your focus. Technology, Tools, Techniques changes rapidly, and a good ethical hacker must be alacritous and eager to keep up with the new technological developments.
Get certified and take related and accredited exams as it would help you to succeed in the vanguard of your profession.
Stay connected to the hacker community by sharing technical information and ideas. Register on forums, blogs and stay very update because an informed mind can't go wrong. Knowledge is very key in becoming an outstanding ethical hacker.
N.B: Continuously keep learning new things and increase your knowledge, Keep you focus intact in your job or in learning from your PC/box, Don't do it just or fun, Never do it just for money, Always work within the law( under and never try to break it.
Tools/Skills for the trade: Computers, Zeal to learn new things, Enjoy your work, Be Anonymous.
Enroll for a certified ethical hacker training: Click Below Link
www.soutechventures.com/certified-ethical-hacking-training-in-abujanigeria/