August 12, 2017
Posted by:

cyberanalyst

Category:

Blog, Consulting, Cyber-security and Ethical Hacking Training, Development, Others, Project and Research Nigeria, Softwares, Technologies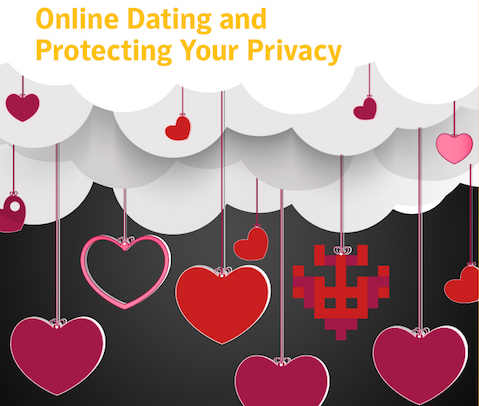 In the past 3years, Nigerian singles have flocked dating sites and took to social media to employ their services in searching for partners. Online dating has outgrown all the stigma it used to have in the past as a research by psychologist and counsellors have found that one out of ten Nigerian single person has veered on to social media and online dating sites on their mobile apps and PC's to get hooked up with people. Since the negative stigma attached to the online dating has gradually been phased out and nearly going into extinction, the popularity of these services has been on the rise and has caught the attention of hackers and scammers.
Recently in Nigeria, a lot of hackers and scammers have taken to social media platforms to trick people into giving sensitive and personal information. I have a made a personal study on this and from reading experiences from people and it has become of concern for me the reason behind this article. Apart from phishing scams and other vices that hackers have adopted to take advantage of unsuspecting victims, online dating has become one of the tools of meeting the emotions of people to exploit them.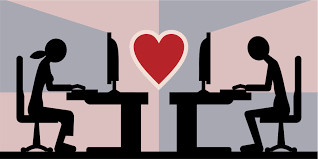 The intention of this article is not to talk about dating and online dating or its sort but to give you tips on how to protect your privacy online.
Privacy Protection Tips
Creating of new user accounts
Create a username different from any other account that you have ever had and used. Now you may be wondering why you should do this, this is because a username can be searched easily and any account related to it, so this is the reason why you usually need a totally different account.
Images and photos uploaded
The same applies to photos and the images that you post on your social media profiles. You should try as much as possible to make sure that any reverse image searches performed on you will not work.
Opening Email accounts
Ensure to setup a free email account to use on the dating accounts with a unique name. Note that most sites provide features that offer users anonymity protection via their own in-site messaging products.
Using Free Google voice accounts for Calls
If you must do a phone call, open a free google voice account that will generate a different phone number for you and then go ahead to forward it to your mobile. By doing this, you have been able to secure your phone number that will enough to give you your potential match.
Use Reputable Online Dating sites
Always research properly and subscribe to popular and reputable online dating sites if you must use them. You can either delete or disable an account which come sites actually allow you. And since the site retains your previous information, you can always return to the online dating sites whenever.
Check website privacy policies
Ensure to check the sites privacy policies and try to verify how information with these sites are being handled. Some of these sites by default make profile pictures and profiles public which can be easily indexed by any search engine. There is a popular website that was penalized recently for secretly trying to experiment with their user's data.
The fact that users have to pay to use their services for communication, this has reduced the rate of scammers and illegitimate daters. Note that some of these sites perform background screenings for criminals.
How can online dating scams be spotted?
Now that you have known some of the do's and don'ts of the social online dating sites, now I will teach us how to spot any form of scams that you may be exposed to know.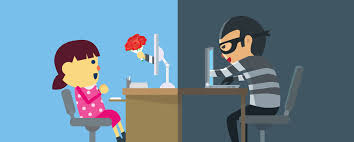 I have heard people say someone comes up to them with some stories to get to their emotions. Now this is one popular trick by scammers in that an individual can add up and start giving you some sad stories like " I am stranded in a foreign country at the moment, my family has an emergency and needs immediate attention". The endpoint of this story is request for some amount of money from you. Once you see this, immediately report such accounts to the service and do well to block such.
Another trick I apply is to request a recent photo of the person I am chatting with in order to verify their identity. If in anyway they come up excuses or start a sort of protest as to the know why they won't be able to provide the photo, the best thing to do is to run for safety and apply caution at once.
If you been chatting with and familiarizing a supposed sweetheart for some time and you observe that they avoid any real-life meetings and dates, this could be a warning signal to take note of.
Do not click open any links that is sent to you by anyone you have not been chatting or communicating with as well as from the ones you're in frequent chats with. A scammer can appear to be a contact and try to get you to click the links which may redirect you to a pornographic site or webcam site and even malware infected sites.
Be careful about your behavior and your outfit if you want to engage in any sort of webcam or video chat. A criminal will want to record these sorts of sessions in order to blackmail you with it. You can disconnect from any form of communication or chat sessions that makes you uncomfortable.
Scammers use bots to create fake profiles that run their accounts with the aim of getting you to click these links that redirect you to unwanted sites described above. Some of them can even be programmed to steal your credit card information. Well, you can easily spot a bot because they are programmed to give out a set of predetermined responses. When you observe that you are not getting direct replies to your conversation, then there are chances that a bot has been set in.
CatFishing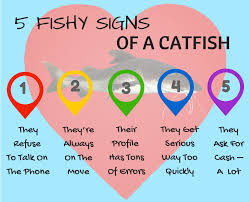 The term catfishing is a scamming trick in which a user takes the identity of another person. This scamming has been adopted by scammers and cyber criminals to lure people into online romantic relationships and friendships.
A typical catfisher will always come up with excuses as to why they can't have dates, call you in phone or even do video and webcam chats. It probably is true if the user's profile appears too real that a lie. What you can do is to perform a reverse online image search of their photo and if they seem to be a place which is different from the one showing in their profiles then congratulations you have been able to catch a catfish.
As a parting word, we are in the age and era of the internet where we can order just anything from online. And as it is in all facets of life to have scammers and tricksters, scammers and hackers are in strong search of loopholes to exploit online users. But I have and will always do my bit in keep u appraised with all the techniques they can possibly come with to trick you. All you have to do is subscribe to all the tips I have given out in this article and you can safely be online and keep your relationships going on just fine.
Subscribing to our CEH course in Soutech ventures gives you an added edge to stay one step ahead of hackers and cyber criminals all over the world.