Esang U. E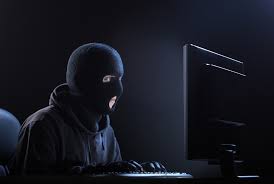 A typical web server faces the risk of all forms of attacks from attackers but one of the most popular attacks forms are defacement also known as web vandalism. The act of defacing websites and web servers may be subtle, it may also be aggressive but actually depending on the what the attacker's goals are. Howbeit, the goals of any hacking attempt on a web server is always the same such as
To make a statement
To create nuisance
To embarrass the company
The act of defacing websites comes with a lot of possible methods depending on the personal skill-level of the attacker as well as his capabilities and the available opportunities. I will be giving you a few tips on hacking web servers though I will not shed on everything you need to know here. You can subscribe to our CEH training courses in soutech ventures to be well equipped on web server hacking.
Hacking Activity: Hack a Web Server
I am going to practically teach you about the anatomy of attacking a webserver. I am going to choose a target which is www.certifiedhacker.com, and of course you hacking into it is illegal so I am going to just use it for educational purposes.
So what are the things which we will need to perform this exercise?
Information Gathering: Just as it is in every hacking scheme, we must first gather information about our target. First of all we need to get the IP address of the target and also any other website that happens to share IP addresses with our target.
I am going to make use of an online IP address tracking tool called reverse IP domain check to find our target's IP address and any possible website sharing the same IP. This can be done by first;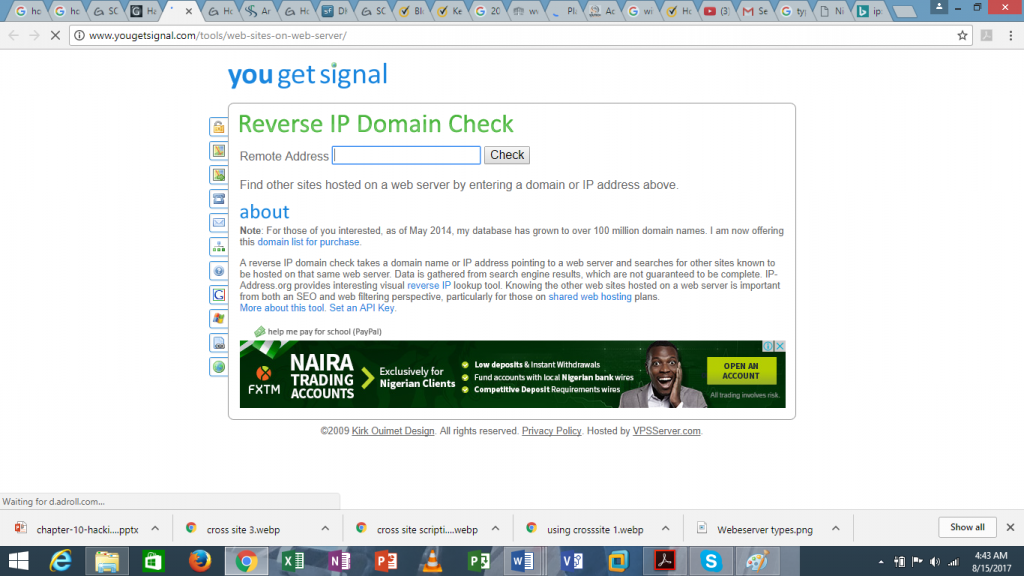 This is the result you will get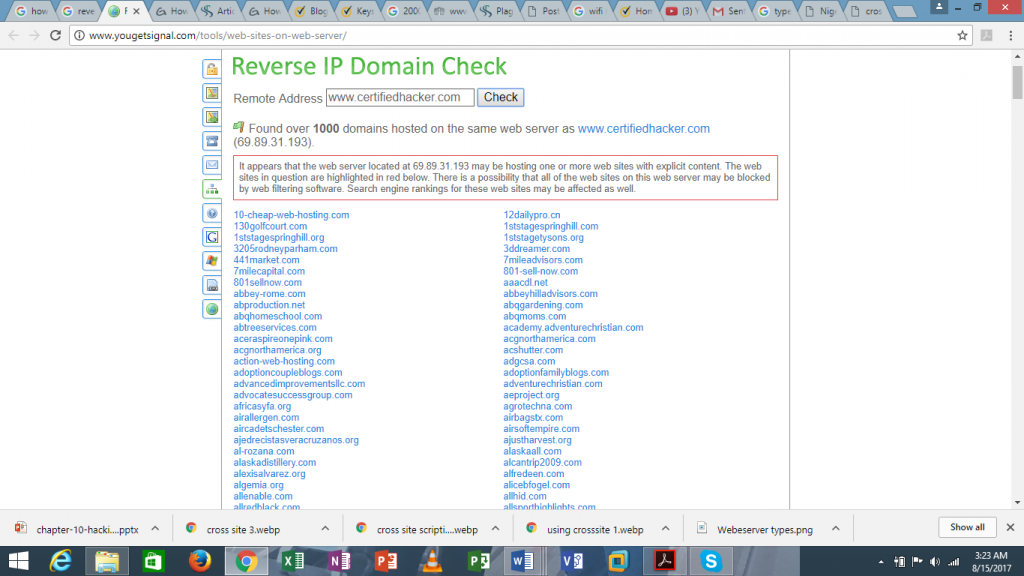 From our result above, the IP address of the target is 69.89.31.193 and we have also been able to find out that over 1000 domains are hosted on the same web server as our target and they are listed below.
So the next thing or step we can take is to scan the other discovered websites if they are vulnerable to SQL injection.
One important to note is that if we find any site that is vulnerable to an SQL injection attack then we can directly exploit that site without even considering any other website.
Open www.bing .com on your browser. Note that this step can only work on bing and not any other search engine like yahoo and google search engines. So, don't bother using them.
Now enter this search query ip:69.89.31.193 .php?id=
What this query does is to limit our vulnerable website search to all the ones that are hosted on the web server carrying the IP address 69. 89.31.193
Also so you know, this part of the code " php?id=" searches for the URL GET variables which are used as parameters for performing SQL statements.
This is the result you will get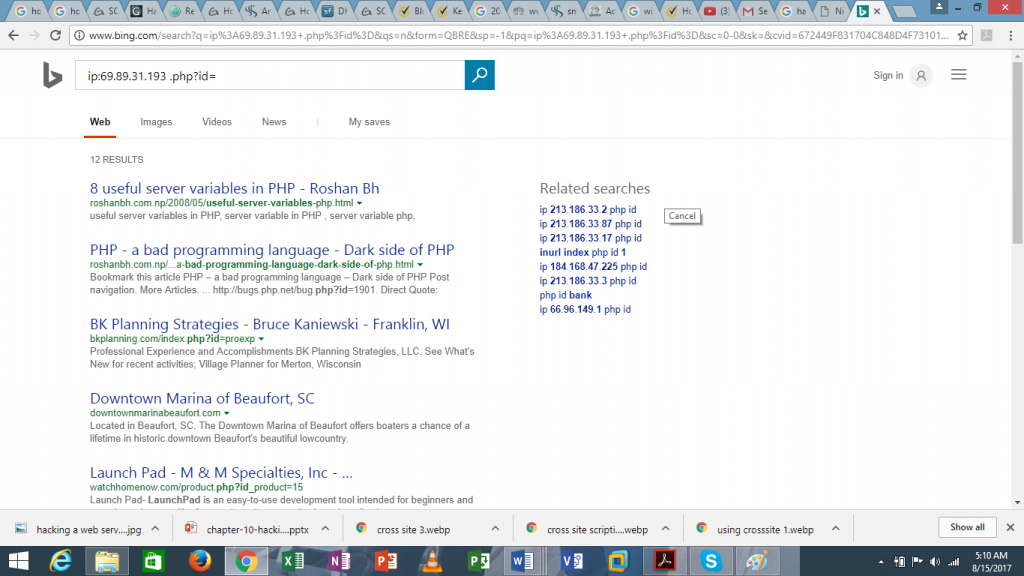 The next thing you will have to do is to scan all the listed web sites for SQL injection. The purpose of this article is not to teach you SQL injection. You can however, use any of the tools mentioned in my previous article.
Uploading a PHP Shell
I will not attempt to scan any of the websites listed as it is an illegal thing to do, so I'll assume to have logged in to one of them. The next thing we can do is to upload the PHP shell that we downloaded from the http://sourceforge.net/projects/icfdkshell/
Go ahead to open the URL which you uploaded the dk.php file.
You will get something like this

Click on the Symlink URL which will give you a direct access to the target domain.
Now once you have gained access to the files, the next thing you can do is to get the credentials for logging into the database. After you have logged in, you can perform any attacks you want such as defacing, downloading sensitive data such as emails, files etc.
Once you have access to the files, you can get login credentials to the database and do whatever you want such as defacement, downloading data such as emails, etc.
Summarily, it is important to note that a web server stores sensitive and valuable information and are readily accessible to public domain and this is the reason why attacks often go for it. Just like I have said in my previous article, I will quickly remind you that the  most popularly used servers are Apache and IIS (Internet Information Service). Also, I established the fact that web servers take advantage of system bugs and misconfigurations in the operating system, network and web servers. The popular web server hacking tools are Neospoilt, Zeus, Mpack.
Most importantly I will stress that a good security policy can reduce any chances of being attacked.
Enroll for a certified ethical hacking training today at SOUTECH.